Those that are at all into religion, should already be aware that when you get down to the nitty gritty of it, the essence of pretty much every religion is about doing no harm, treating others with the respect that we ourselves expect, or fundamentally deserve, and generally loving and helping others when and where we are able.
Breakfast abomination
Buddhism, for example, has what it calls the 5 precepts, the first of which clearly states that
one should undertake the precept to refrain from harming all living creatures
(ie, both humans and other animals alike, and I'm supposing the ultimate harm is death!).
Albeit, I've yet to really meet a Buddhist that fully understands what that entails, and goes out of their way to put it into practice. (even the dalai lama regularly eats the flesh from other beings)..
Christianity, in addition to jesus's teachings of respect for others, has the very clear 6th commandment given in the old testament "
thou shall not kill
" (Exodus 20:13; Deuteronomy 5:17)..
A true carnivore would look at this creature, and think "food".
Specieistic scholars addicted to the scorched flesh of butchered animals, have tried to distort the true meaning of the commandment, and would have us believe that it refers purely to the murder of another human being, where I would seriously doubt that any such exception was ever intended.
Islam, supposedly the fastest-growing religion on the globe, quotes several times in it's Koran, that one should show respect for animals:
...but to hunt...is forbidden you, so long as ye are on the pilgrimage. Be mindful of your duty to Allah, unto Whom you will all be gathered.
(Koran, surah 5, verse 96)
It teaches that in Mecca, the birthplace of Mohammed, no creature can be slaughtered and that perfect harmony should exist between all living beings.. Which is odd, as I can't quite imagine that all the restaurants there are vegan..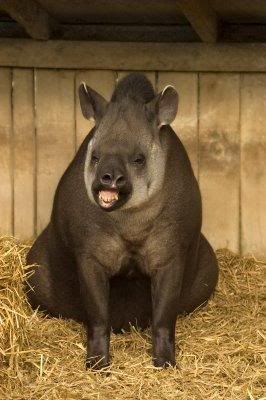 Definitely not food.
Whoever is kind to the creatures of God is kind to himself.
(the Prophet Mohammed)
There is not an animal on the earth, nor a flying creature flying on two wings, but they are all peoples like unto you.
(Koran, surah 6, verse 38)
Ahimsa is an east Indian term that relates to the principal of non-violence toward all life. Ahimsa is an important tenant of both Hinduism and Jainism
- Animals are seen as sentient beings worthy of human love and protection. Killing animals for food or any other reason is supposedly completely unthinkable to an adherent of Ahimsa, although I suspect as with other religions many disciples will ignore or regularly turn a blind eye toward this tenant. - Violence toward animals is said to negatively affect a person's destiny and fate. The idea is that
one reaps what one sows
and the adherents of Ahimsa believes that the violence and misery experienced by a murdered animal will be metaphysically transferred to the flesh-eater during his own lifetime.
What gives us the right to eat animals?
The Bahai Faith teaches that respect for animals is just, and even supports it's followers to become vegetarian. Some even choose to cut out all animal products, and eat vegan. Admittedly, not all followers have the insight enough to equate respect for animals with diet at all, so I'm guessing that vegetarians in the faith are most likely to be in the minority..
Furthermore, Abdu'l-Bahá said,
Fruits and grains [will be the foods
of the future]. The time will come when meat will no longer be eaten..
The next time those Mormons come knocking on the door, take a look at one of their small colourful brochures.. They often have one baring a picture of an idylic setting with colourful fruit baskets and lions lying peacefully next to lambs..
This they see as a future paradise, clearly portraying the Isaiah prophecies of a time when carnivorism will stop, even as behaviour between other species.. To me, it makes perfect sense that in order to bring about such a setting, we will all need to change our eating habits.. Apparently a fact that not one of those young mormons I've spoken with, has ever understood or appreciated.. Although, perhaps they were Jehovas Witnesses? I've always ignorantly confused the 2 groups.
Real food, for real people.
I'm quite certain that a few google searches would show similar thoughts expressed by other religions.. Quotes that are generally swept under the carpet by both leaders and followers of each religion.
The Pope, head of the catholic faith, similar to the dalai lama, is a regular flesh eater, devouring gluttonously all creatures great and small.
So clearly, it appears to me, and I repeat myself, the core of all religions is about Non-Violence..
The most nonviolent of all food, and thus the pinnacle of religious food, is unquestionably fruit. - No exploitation, killing or theft from animal or plant - No unjust imprisonment, branding, castration, torture or eartag punching of voiceless innocent animals.. - No acre upon acre of annual mono-agriculture, reliant on heavy industry tractors and harvesters, resulting in the loss of many small animals lives, and the loss of habitat of creatures of all sizes.. (The statistics in that industry of how many accidents, and deaths to humans alone, annually, is quite shocking - as well as millions of mammals and other creatures sliced by combines, harvesters).
Alive with colour
Fruit is the only food given freely and generously from the plant which bequeaths it all..
If you think of heaven as a place where you can sit and fish all day, then think again. I am convinced that heaven is heaven for all, including the fish.
Adopt a fruit diet, and help humanity evolve toward the light side!
Peace,
mango.