Are you looking for a way to sell whatever it is you are selling online, but finding the ebay fees to be too much??

Well, there is a recent addition to the online auction/selling websites available to use now..

It's called WigiX, and you can reach it here:


It's a true Ebay competitor, and with it you can gain access to affordable items without having to deal with unwanted fees or long bidding processes as is the case with ebay..
Wigix stands for WantItGotItExchange, and is a very recent promising alternative auction website, to Ebay..
Taken from their website, their policy looks promising and more appealing than EBays: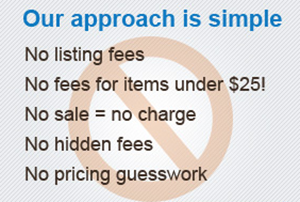 regards,
Mango.
PS If you are Australia based, you might also want to check out an australian ebay equivelant:
ESWAP.COM.AU
---
Previous Blog Entry -
Fruitarian Interview - Jimmy
Next Blog Entry -
Context Related Ads
---
Previous Useful Website -
Make Cheap Phone Calls from the UK
Next Useful Website -
Sell your old cell phone
---